VelaShape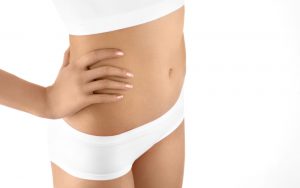 Are you sick and tired of dealing with stubborn body fat, skin laxity (looseness), or cellulite? In some cases, it's not your fault that these issues persist, but they are still difficult to eliminate. Luckily, there is VelaShape!
What is VelaShape?
VelaShape combines bi-polar radiofrequency, infrared (IR) and vacuum technologies to heat fat cells (adipocytes) and promote increased lymphatic drainage, circulation, cellular metabolism and collagen production. All of these measures serve to enhance the appearance of the skin by reducing skin laxity. This treatment improves upon previous body contouring products by reducing the overall treatment time, allowing for more precisely targeted treatment of fat pockets, and producing consistent outcomes.*
The VelaShape III system, the newest update of their series, is a reliable, powerful and safe body contouring system with proven results. Although there are countless products currently on the market that promise 'miraculous' body shaping results, most of these claims are without merit and are not backed up with solid, scientific evidence. This state-of-the-art technology will give you the results you desire without downtime or significant discomfort.*
Cellulite reduction
Many creams, pills, gels and diet programs claim to result in cellulite reduction, but these statements are almost always unsubstantiated and are not backed up by any scientific evidence. Cellulite is a persistent and difficult aesthetic issue to resolve and requires a powerful course of treatment that is designed to address the issue at its source, beneath the surface of the skin. VelaShape III cellulite treatments are both safe and effective for patients of all skin types and skin tones.
Body contouring and cellulite treatments in Pasadena
In order to achieve optimal results, it is important to have your treatment performed by an experienced physician who is properly trained and understands how to use VelaShape, such as Dr. Hany K. Zaki, lead physician at Le Rêve Med Spa, located in Pasadena, California. To learn more about this treatment, or to schedule your free consultation, call us at (626) 564-9025.
Before and after photos
*Individual results may vary; not a guarantee.
---
VelaShape is Used to Treat: