Laser Hair Removal
Laser hair removal is a safe, painless and long-lasting solution for unwanted hair.
Traditional hair removal treatments, such as waxing, shaving and tweezing, typically cause some pain and discomfort. More importantly, these treatments only produce temporary results, so the patient is required to undergo that pain and discomfort each time a repeat treatment becomes necessary. This is why Le Rêve Med Spa provides an extremely effective answer to this problem with laser hair removal treatments!
The painless hair removal approach
Laser treatments are almost entirely free of pain for most patients.* The treatment requires no application of local anesthesia and achieves the desired outcomes in a smooth, efficient, and targeted manner. The treatment involves no cutting, pulling or tearing of hair, and involves no needles or other invasive instruments. There is no downtime involved in this treatment and the patients are able to resume their regular activities immediately.*
A beam of intense laser light is focused on the targeted area where the hair needs to be removed. The beam of light reaches inside of the top layer of skin, gets converted into heat energy and causes disintegration of the targeted hair. The outer skin remains unharmed because the procedure is combined with a unique cooling process to keep the outer skin cool and comfortable.*
Fortunately, technological advancements in the field of laser hair treatment have led to the development of the elōs Plus and the GentleMax Pro—two state-of-the-art workstations that can be utilized to provide effective and pain-free hair reduction results for both men and women alike.*
Where can these lasers remove hair from?
Typical areas of treatment include the legs, forearms, back, bikini line, and abdomen. Patients can receive this treatment regardless of skin tone and hair color.
In the past, hair treatment techniques and products were geared primarily toward female consumers, but the search for convenient hair treatment solutions is now a gender-neutral quest, as increasing numbers of men have begun to seek out comfortable, hair reduction options.
Laser hair removal in Pasadena, California
Le Rêve Med Spa provides GentleMax Pro laser hair removal to patients in Pasadena, Burbank, Arcadia, Glendale, and the surrounding areas. Dr. Hany Zaki and his team will educate the patients about various aspects of the procedure, including its expected costs, during the initial consultation. Schedule your free consultation today!
How much does it cost?
To get the latest pricing info, check out our Laser Hair Removal Pricing page.
Before and after photos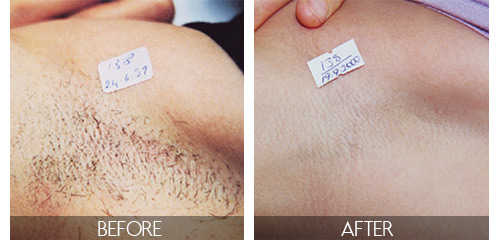 *Individual results may vary; not a guarantee.
---
Laser Hair Removal is Used to Treat: