WHAT IS ACNE?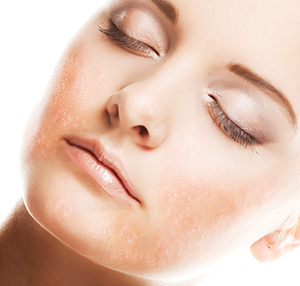 According to the American Academy of Dermatology, acne is the most common skin condition in the United States. Normal skin requires a certain level of sebum (oil) for protection and hydration. However, when excess sebum is produced, the pores become clogged, leading to bacterial infections that can cause the swollen, red, and/or pus-filled bumps associated with acne. Although often linked with hormonal changes occurring during puberty, acne can affect adults as well, and can range from mild, isolated outbreaks, to a more severe, chronic condition. Acne is often found on the face, back, neck, chest, and/or shoulders, and may present in a number of different forms, such as: whiteheads, blackheads, clogged pores, pimples, or cystic lesions (painful red bumps under the skin). Call our Pasadena location to schedule your acne scar reduction treatment or continue reading for more information.*
ACNE TREATMENT
At Le Rêve Med Spa, located in Pasadena, California, Dr. Hany K. Zaki believes in providing his patients with cutting edge acne scar treatment options that are safe, comfortable and effective. To this end, Dr. Zaki has equipped Le Rêve with state-of-the-art aesthetic enhancement technology, including the elōs Plus Workstation, which utilizes optical energies (laser or light) in conjunction with bi-polar radio frequency (RF) energy to reduce active breakouts and expedite the healing process of acne and acne-related scars.*
Individual results may vary.
The enhanced design of the elōs Plus Workstation improves upon previous elōs technology with larger applicators and reduced requirements for optical energy, allowing for faster, more comfortable treatments, and enhanced results.*
The elōs Plus combines the power of bi-polar radio frequency and blue light energies to penetrate deep into the skin, where its dual heating mechanism can target and reduce active acne-causing bacteria, while simultaneously reducing excessive sebaceous oil production, thereby reducing the likelihood of future breakouts. Acne treatment with the elōs Plus is comfortable, appropriate for most skin types, and does not require any topical anesthetics or other analgesics. The surface of the skin is automatically cooled during the session, in order to guarantee the patient's comfort and safety, and there is no need for any post-treatment downtime.*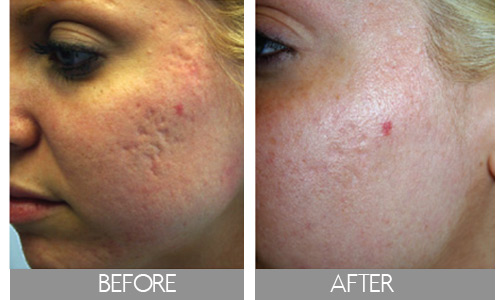 Individual results may vary.
TREATMENT OF ACNE SCARS
In addition to treating acne and clogged pores, the elōs Plus is also equipped to minimize the appearance of acne-related scars, which are often indented or pitted, and can give the skin a pox-marked appearance. The elōs Plus Sublative™ applicator re-texturizes the skin through the use of fractionated bi-polar radio frequency technology, which stimulates the body's natural wound healing response and the production of new collagen, elastin and healthy skin cells.*
Individual results may vary.
The average treatment protocol for acne-related scarring is 3 treatments (spaced 4-6 weeks apart), after which, the texture of your skin should be smoother, firmer, and more elastic, and the appearance of your acne scars should be visibly reduced. Although Sublative™ treatments are well tolerated by most patients, topical anesthetic ointments and cooling may be used to minimize discomfort during the session for patients with sensitive skin.*
*Any claims in this video cannot be guaranteed. Individual results will vary.

CONTACT LE REVE MED SPA
At Le Rêve Med Spa, we understand that our patients lead very busy lives, which is why our overarching treatment philosophy is to provide our patients with effective aesthetic enhancement treatment options that can conveniently fit into even the busiest of schedules. If you would like to learn more about treatment options for acne and acne-related scarring using the elōs Plus System, please do not hesitate to contact Le Rêve Med Spa today. We look forward to speaking with you, and to scheduling your complimentary initial consultation with Dr. Zaki.*
*Disclaimer* Any claims of acne or acne scar removal, reduction, or treatment cannot be guaranteed. Individual results will vary.