Restylane – Smooths Lines and Reduces Wrinkles
Restylane® is one of the many treatments we offer at Le Rêve Med Spa Pasadena, and is a widely known wrinkle and line smothing injectable treatment which provides volume by supporting the skin's structure. Treatment benefits can be seen immediately and are long lasting but not permanent. Restylane works from beneath the skin to lift and smooth away lines and restore your skin's appearance.
Restylane® Restores fullness to lips
Restylane Lipp™ is specially designed to create the beautiful looking lips you desire. Whether you'd like to have softer, fuller lips – or just add a touch of volume in the lip border to give a more sculpted look – Restylane Lipp is the perfect treatment for you.
Restylane®: Long-lasting for about six months
If you're considering treatment for your facial wrinkles and folds, we invite you to learn important facts about Restylane® including how they provide structural support and lift to nasolabial folds. The procedure is non-surgical, and its effects are virtually instantaneous.

What Is Restylane?
Restylane® products are cosmetic dermal fillers that replace lost volume and restore youthful contours to the skin to smooth away moderate to severe facial wrinkles and folds, such as the lines from your nose to the corners of your mouth (nasolabial folds).
Restylane is made of hyaluronic acid. In the human body, natural hyaluronic acid provides volume and fullness to the skin. The hyaluronic acid in Restylane has been modified slightly to last longer than the body's hyaluronic acid. The hyaluronic acid in Restylane is produced by a biotechnical process.
Restylane is hydrophilic or "water loving." The hydrophilic nature of these hyaluronic acid molecules and their three dimensional structure allows them to bind many times their own weight in water. As hyaluronic acid begins to degrade, each molecule binds to more water which helps to maintain its volume for about six months.
Restylane contains no animal proteins. This limits any risk of animal-based disease transmission or allergic reactions. Restylane and Perlane contain trace amounts of gram-positive bacterial proteins and are contraindicated for patients with a history of allergies to such material. No allergy testing is required before use.

How Long Does Restylane Last?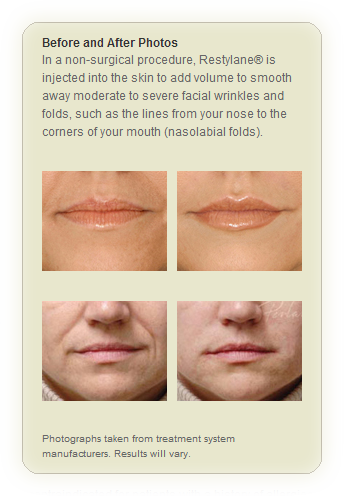 Restylane® is proven to deliver long-lasting results. Studies have shown that Restylane lasts about six months. The patented stabilization technology helps maintain the cosmetic effect for those time periods.
How long the aesthetic correction lasts is very individual. Talk with one of our specialists about the benefits of scheduling a follow-up appointment in about six months.

Call Le Rêve Med Spa Pasadena for a Free Consultation and find out if Restylane Line Smoothing And WrinkleTreatment is right for you
During a complimentary consultation at Le Rêve Med Spa Pasadena, we will evaluate your skin and discuss your goals. With this information we will develop a treatment plan just for you.
Call us for a Free consultation: 626.564.9025
Disclaimer: Individual results may vary. Any specific claims or permanence length of results vary for each patient and are not guaranteed. Each treatment plan is designed for a patient's needs, so depending on the area being treated and the condition of the skin each patient will see different results. Please call or fill out the form for a patient assessment to discuss your treatment plan and the results that can be achieved for you.