SculpSure Body Contouring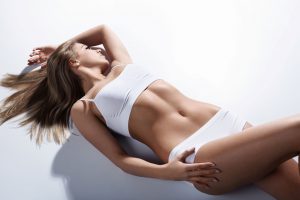 SculpSure is the latest FDA cleared, non-surgical body contouring treatment for both men and women. Le Rêve Med Spa is proud to offer this treatment, clinically proven to treat flanks (love handles) and the abdomen (muffin top). Even with diet and exercise, many find that they have pockets of fat that are hard to lose. SculpSure is the latest body contouring technology that can help you combat that stubborn belly fat without any surgery or downtime in just 25 minutes!
How does SculpSure work?
SculpSure administers gentle light-based energy to target and remove fat cells without harming surrounding healthy skin and tissue.* During the treatment, a series of applicators will be applied to the treatment areas. You should expect to feel alternating heating and cooling sensations, which is generally not uncomfortable.* After treatment, fat will be removed naturally from the body and you should begin to see the full results in about 6 weeks.*
Once you receive your SculpSure procedure, treated fat cells are permanently removed from the body and, with healthy diet and exercise, they shouldn't return.* Similar to liposuction, if you maintain a healthy weight, results will last. If you ever gain weight, it will be distributed evenly.*
Who is a good candidate?
Men and women who lead an overall healthy style and are in good health but still have difficulty losing excess fat in the abdomen areas with diet and exercise are ideal candidates. Since SculpSure is not a weight loss solution, the best candidates will be near or already at their target weight. This treatment is also great for individuals who are interested in liposuction but do not want to proceed with such an invasive, surgical procedure.
Hear SculpSure Testimonials
SculpSure body contouring treatments in Pasadena
Dr. Hany K. Zaki provides this cutting-edge treatment at Le Rêve Med Spa in Pasadena, California. We are the experts in body contouring and can help you once again feel great in your own skin! If you would like more information on our SculpSure treatments, call our office or schedule your complimentary consultation online today!
Before and after photos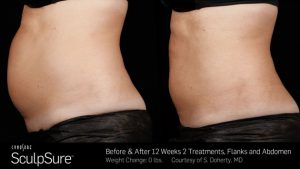 *Individual results will vary; not a guarantee.
---
SculpSure Body Contouring is Used to Treat: